Sign up for PCAP - Individual
Please enter your details and click Submit - all fields are mandatory.
You will be sent an invitation email to the address you provide. Make sure to enter your email address correctly and if you haven't received an invitation within 2 hours check your spam folder before trying again.
Once you complete your PCAP - Individual you'll be directed to your report.

What is the PCAP - Individual?

The PCAP - Individual is a first step towards collaboration excellence and has been developed by the Association of Strategic Alliance Professionals (ASAP) in conjunction with New Information Paradigms (NIP), who are also providing the underlying software.
PCAP is the only diagnostic endorsed by ASAP using ISO Business Collaboration standards to assess your organization's partnering capabilities and provide guidance on how to improve them.
Measuring the science and art of partnerships, PCAP scores your organization on key attributes and performs a gap analysis based on global standards from ISO. Using ASAP Best Practices, the analysis drives organizational change, developing workplans to build on strengths and improve weaknesses.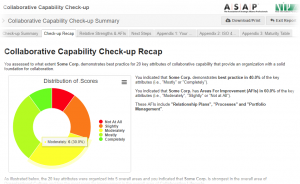 PCAP contains 20 key attributes that have been determined by ASAP to encapsulate what matters in the domain of Partnering. They represent what ASAP members agree to be the key areas where value is secured, or waste is incurred, with partners. For each attribute, you will be asked to assess the extent to which your organization demonstrates the best practice description given.
Upon completion, your input will be used to generate a summary report that contains:
A Partnering Maturity Level
Three relative strengths
Three relative areas for improvement
References to Sections of the ASAP Handbook and ISO 44001 standard
Options for next steps